We've moved! Things were getting a little tight where we were, and with customers throughout the UK locating ourselves more centrally makes sense as we continue to grow.
Our new home is Broadstone Mill in Reddish, Stockport. More specifically, the Stockport Business & Innovation Centre (SBIC), located on the 3rd floor of this imposing landmark.
A legacy of Manchester's textile manufacturing past, when constructed Broadstone was the largest cotton spinning mill in the world, employing 700 people. Specialised in spinning the highest quality Egyptian cotton, the mill was 4 years in construction (1903-07) and ran until 1959.
SBIC will provide a great base for the company, while allowing existing staff to remain based in the West Midlands. Also, there's a fantastic view over Greater Manchester through the windows.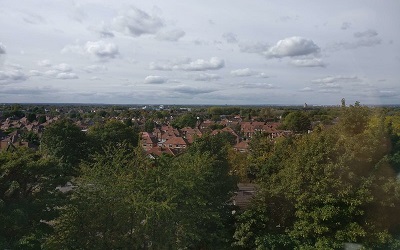 Our new contact details are:
 Stockport Business & Innovation Centre
 3rd Floor Broadstone Mill
 Broadstone Road
 Stockport
 SK5 7DL
Drivers will need to use 'SK5 7AS' with Sat Nav's that take a postcode.
It's no mistake that our phone number hasn't been updated - while we transition, our existing line will be diverted.
EDIT: Our number has now changed, see above.
If you want to come and see us, feel free, but please call ahead to ensure there's someone in to meet you. Though it's nice gazing out over Merseyside, much of the time the team are hard at work on client sites.
---